Communication technologies are an integral component of smart meters
New smart meters for electricity, gas and water can work independently as well as become structural components of the metering and resource management system due to in-built communication modules. The communication type can be different. At the moment, wire technologies in such systems give way to wireless types of communication, which are more convenient to install and to maintain:
Radio interface: due to it, it is possible to ensure coverage of vast territories with the lowest signal power.
PLC technologies: it allows guaranteeing acquisition of data from the meters without additional wiring, when there's no possibility to install a base station.
Combination of radio+PLC: this decision allows the meters an automatic choice of optimal transfer channel on the ground of the condition of the network and channel workload during each certain period of time.
A lot of factors influence the price of automatic electricity metering system and the systems of automatic gas, water and electricity metering systems. However, due to knowledge of our specialists, we can offer the most favourable prices even with the most complex tasks.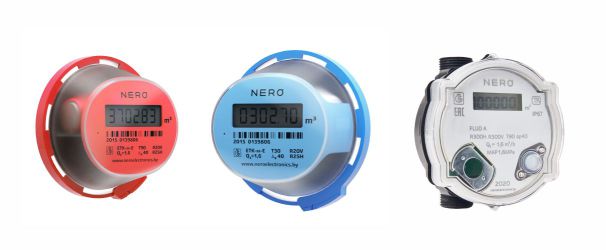 Advantages of Nero smart devices
Convenience. You can check the readings of the meters in your personal online account wherever you are if you have access to the Internet. Besides, you have an ability to analyze the resources consumption during the previous periods and maintain effective record.
Reliability. All our devices are distinguished by magnetic fields resistance and are equipped with sensors, which react to the attempts to open the body.
Economy. Thanks to our smart devices you only pay for those resources, which you have used during the certain period. Besides, we can offer you the most favourable prices for automatic electricity metering systems meters and other smart devices.
Scalability. It is very easy to add additional meters to the functioning system. They become a part of the network immediately after installation.
Who can profit from smart meters
Managing companies. Such organizations install smart meters for qualitative control of gas, water, electricity consumption in residential and commercial buildings.
Enterprises. Using such devices they can efficiently plan their expenses, control electricity consumption. Besides, the smart system will allow reducing unreasonable expenses for heating supply, water and gas.
Resource-supplying organizations. Smart devices are a good instrument for resources consumption monitoring for water services companies, energy services companies, heat supply systems, gas supply organizations in the city or certain city districts.
Owners' associations. Buying automatic electricity metering systems meters, gas and water meters can also be a good decision for condominiums, apartment complexes and cooperative societies. Smart systems allow reasonable metering of resources consumption and timely finding those who fail to pay.

If you want to buy smart meters we offer you to review a wide range of items in our online catalogue. You can place an order on the website.